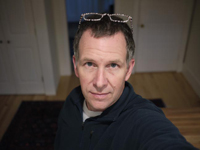 Michael Kolster
Michael Kolster, a 2013 John Simon Guggenheim Memorial Foundation Fellow, teaches at Bowdoin College and lives in Maine with his wife, Christy Shake, and son, Calvin. He is currently producing ambrotypes for a project comparing Maine's Androscoggin River with other American post-industrial rivers. When not able to shoot outdoors, he works in the studio on a series of still lifes of everyday objects with the wet plate process.
Since July, 2012, he has mounted solo exhibitions at Schroeder Romero & Shredder Gallery in New York City; the Bowdoin College Museum of Art in Maine; Page Bond Gallery in Richmond, VA; 621 Gallery in Tallahassee, FL; the College of Southern Maryland; SRO Gallery at Texas Tech in Lubbock; and Space Gallery and PhoPa Gallery in Portland, Maine. Loupe, the Journal of the Photographic Resource Center at Boston University and Memorious published portfolios of his river photographs in 2013.
An earlier project similarly concerned with land use policy and its implications, entitled Changing Places, depicted changes in Las Vegas, San Francisco and New Orleans over a 10-year time span. In 2009 a 23-image portfolio from Changing Places was acquired for the permanent collection of the George Eastman House International Museum of Photography in Rochester, NY. Work from the same series was featured in Consilience - The Journal of Sustainability, published through Columbia University.
For over twelve years Michael has maintained a website, The Daily Post, to which he posts a photograph each day (http://DailyPost.bowdoin.edu).
He was born in Milwaukee, Wisconsin, and has lived in Rochester, New York; Rio de Janeiro, Brazil; Boston, Massachusetts; and San Francisco, California. He holds a BA in American Studies from Williams College, an MFA from the Massachusetts College of Art, and a certificate from the full-time Documentary Photography program at the International Center of Photography in New York City.